English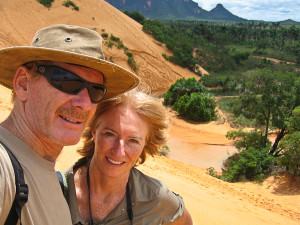 Ever since the mid-80s, Gérard and Margi have travelled all over Brazil and around the world in light aircraft, at low altitude, attune with the land, seas, forests and deserts that pass beneath their wings.
Watching the landscape go by, they increasingly noticed the precarious state of so many rivers, the stubborn march of desertification, the open wounds left in the forests by slashing-and-burning, villagers and native peoples becoming environmental refugees and decided to try to make others more aware of what is happening 'out there'.
They specifically chose "water" as their theme. Ironically, it's from the air that they can "explore" the environment in a different way, using innovative technology on a geographical scale.  Thus, in recent years, they have used light aviation's strong points – access to remote locations, low-level flight, moving observation deck and photograph platform – in the service of the environmental cause, working together with prominent Brazilian scientists.
Gérard is totally at home in the sky. A private pilot with almost 5,000 hours in command, he reconciles a passion for flying with his engineer's technical curiosity of how things work to put together environmental projects where an aircraft can do the job more efficiently than a person on the ground. This is of particular advantage in a country as vast as Brazil.
With the rare experience under his belt of having twice piloted around the world, encountering the most adverse and diverse conditions, a calm and methodical presence of spirit is vital for those difficult moments when he has to creep up on cumulus-nimbus clouds or collect samples skimming the water from narrow tree-lined riverbeds.
Margi, pen and camera at hand, accompanies him on these challenging and often grueling flights. A nature-lover ever since her childhood growing up in Kenya, she is perfectly accustomed to sleeping rough or riding the storms that come their way. The scenes she captures on camera be shocking at times, or enigmatic, or more often simply beautiful and touching. "Nature paints the pictures, I just press the button," she says, but nevertheless transforms those visual images into written ones that also invite us to climb aboard.
Brazil is Gérard and Margi's true home and they are naturalized Brazilians. Having lived in Rio de Janeiro for 25 years, they moved in 2006 from the lushness of the Atlantic rainforest to the drier cerrado biome that surrounds Brasilia, in the very heart of the country.
Click here for the low-down on various projects and expeditions carried out so far.